PLEASE ORDER ONE AT A TIME IF YOU WOULD LIKE MORE THAN ONE PodRide
The entire top half of the car/bike flips out so you can easily get in and since you're fully covered and protected inside, it can be used in any kind of weather. This way you can bike to the office in the rain, without needing to change  out of your wet clothes when you get there (depending on your sweat level).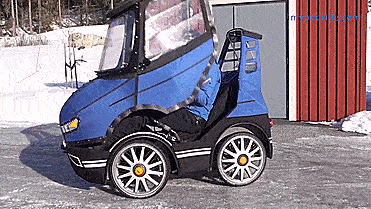 Not only is the PodRide an awesome new way to get around in style, but it's also a great fun way to stay in shape, ride in comfort, save money on gas, and protect the environment while doing so. The motor on the car style e-bike is powered a removable battery that you can bring inside and charge. An option in the future will allow pedaling and regenerative braking to give back charge to the battery.